Businesses today must have a website, but a website alone isn't the trick to succeeding in sales. In order to create sales from a website, you will need to get interested prospects to your site. So, read on to learn how to increase site traffic.
The single biggest thing you can do to increase traffic to your website for free and on a consistent basis is to find optimal "keywords" and "key phrases." If you can identify a keyword or phrase that people are searching for that no other sites are targeting, you will see a rise in your traffic.
Before I launched Shy Entrepreneur I spent about a month digging for terms that fit within the scope of the site and had the correct ratio of searches and competition. The result? In 2 months I was able to get just under 300 hits of organic traffic. The analytics can be seen below. The total visits were over 400, but I can't count the direct traffic, as much of that was me and my team working on the site.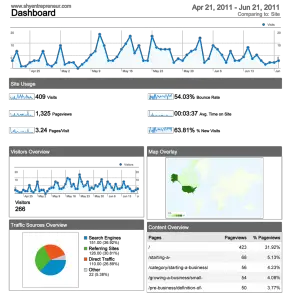 Search engines, referring sites, and my twitter feed brought in 299 hits to the site. This is huge for a site that had no prior links to draw from.
You are probably saying to yourself, "That is great, but what is the correct ratio of searches and competition?" Everyone and every industry will have differing results, but I found that I can rank for terms and phrases that have a ratio of .25 between the exact global searches, and the "allintitle" competing sites. The ratio is explained below.
Exact Global Searches/Competing Sites
The competing sites in this case are all other sites that have the keyword or phrase in the title of their page. Google is kind enough to help us out by providing both of these numbers. The Exact Global Searches can be found by using google's key word tool and selecting the exact match.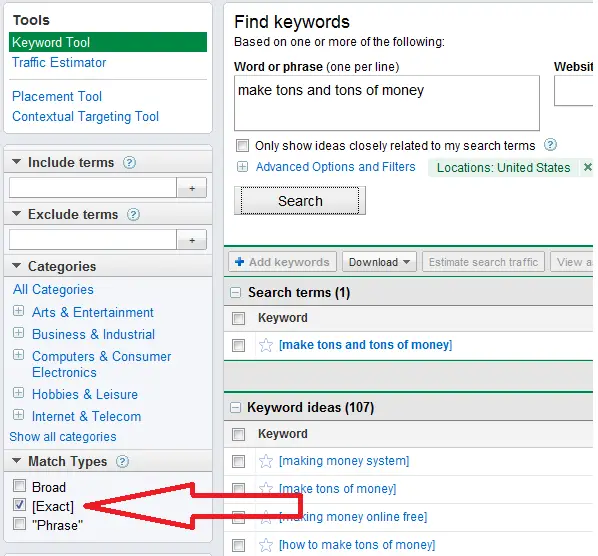 At the time of this article the phrase "making money system" had 140 exact global searches.
To find the number of competing sites we want to find all the sites that have the key phrase in the title of their page. To do this we will us the command "allintitle." If our key phrase is again "making money system" the syntax would look like the following:

You can see here that there are 14,000 competing sites that have making money system in their title.
So, using the ratio (Exact Global Searches/Competing Sites), we would have (140/14,000), which would be 0.01. Not good. Given these numbers, it would not be advisable to target the term "making money system." You can see how a ratio that went the other way, had the same number of searches, and was only competing with 300 sites would provide a higher probability of getting some hits.
Ok, so you learned how to target a single term. How, you ask, does one go about creating a list of terms for a complete site? I started by thinking a lot about the focus and scope of the site. For Shy Entrepreneur, I determined that the five main subcategories to the site would be: Pre-Business, Starting a Business, Growing a Business, Selling a Business, and General Business Principles. From there, I created a list of terms that fit within each of those respective categories.
Creating an intuitive hierarchy of categories will help in the long run as search engines assess the site. They will see that aside from the menu structure, all of the content falls within the five main categories. Initially, this won't make a big difference, but with time it will help algorithms correctly profile the content.
If you are having trouble identifying the main sections of your site, use Google's key word tool to identify subcategories for you. You already have a vague idea of what you want to write about, so start digging through terms and see if you can identify trends in the results.
There are many other techniques that developers use to generate traffic for free, but the one illustrated above is one I know works. Start with one phrase, and keep adding to your site with time. High-quality, targeted, and fresh content will do more for a site than anything else. Users and search bots like to feed on sites that are up to date. If you can commit to adding a few pages or posts a week, with time your site will become an authority in any industry.
If you have any other questions or tips you want to share with the community, let us know.